Werbenuk, Joseph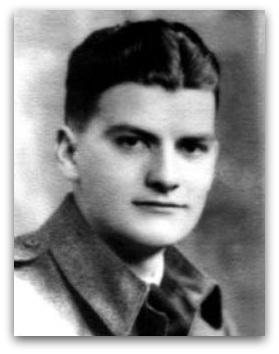 Lance Corporal
Army
Winnipeg, Manitoba
Died: Nov 11,1944
Commemorated at
Groesbeek Canadian War Cemetery, Holland
Joseph Werbenuk was born December 13, 1924 at Winnipeg, Manitoba, the only son of Alexander and Mary Werbenuk, and the brother of Alice and Betty Werbenuk. Raised in Winnipeg, Joseph completed his senior matriculation in Winnipeg before studying Pre-Medicine at the University of Manitoba. While a student, Joseph joined the Cadet Officers' Training Corps before enlisting at Winnipeg February 3, 1944.

Joseph served with the Royal Canadian Infantry Corps as a Lance Corporal attached to the 1st Battalion, The Queen's Own Cameron Highlanders (Ullamh). Part of the 6th Infantry Brigade, 2nd Canadian Division, the battalion landed in France July 1944, and began their motorized advance along the channel coast and into Belgium by September 1944. In early November 1944, they moved into positions along the edge of the Reichswald Forest and the northern fringe of the Siegfried Line, near Mook in the southern part of the Netherlands.

On November 11, 1944, Joseph Werbenuk died of wounds at No. 11 Field Ambulance following an attack by enemy forces near Mook. He was 19 years old. Joseph is commemorated at the Groesbeek Canadian War Cemetery, Netherlands, and on the Winnipeg War Memorial, Manitoba. Werbenuk Lake, east of North Knife Lake, Manitoba is named in his honour.

Citation(s): 1939-1945 Star, France and Germany Star, War Medal 1939-45, Canadian Volunteer Service Medal with Clasp.

"At the going down of the sun and in the morning, we will remember them."

With Help From
Barbara Perkins
Memorial: Winnipeg, Manitoba