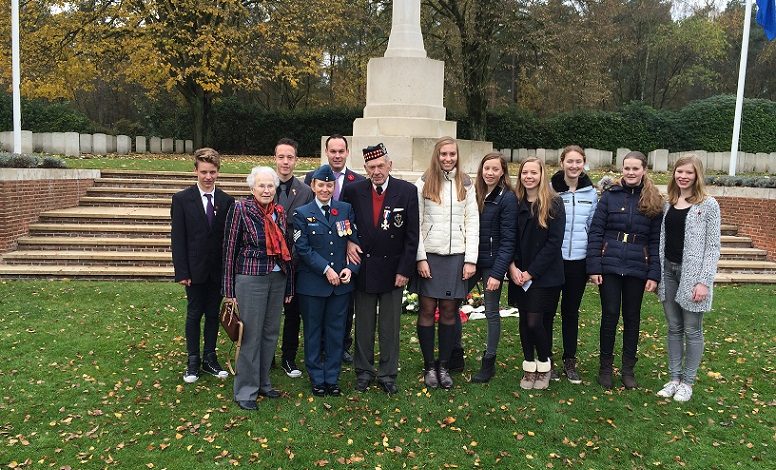 News
Remembrance in Action: One Man's Dedication to honouring Canadian Soldiers, Who Liberated Holland in World War II
As a young boy, Mark Veldhuis remembers his Grand Uncle telling him the captivating story of a British soldier who fought in World War II and was killed by accident in their home Village of Tubbergen in the East of Holland. A few years ago Mark's Uncle told him the same story and Mark began asking questions, "Who was this man? Do we know his name?" Mark's Uncle could not provide this information, but directed him to his Great Aunt. Marks' Great Aunt told him the same story and that the soldier's first name was Johnny.  In hopes of finding more information, Veldhuis went to the local archives and began to see the impact World War II had on his Village. However, he still could not find information on this infamous soldier Johnny. Not allowing this to rest, Mark continued on his search for another few months until he came across the story a soldier with the name of John Dow who was killed in action in September 1945. After months of research, Veldhuis had finally found Johnny. Armed with this information, he began searching for the family of Dow and in March 2014 had the chance to meet them. Dow's family came to Holland and visited the final resting place of their relative at Groesbeek Canadian War Cemetery at Groesbeek, Netherlands.
Today, Mark is a secondary school teacher who teaches students in the subject of Economics. He has started on an amazing journey to help recognize and honour the Canadian soldiers who helped liberate Holland. His school began an exchange with Canadians schools in which Canadian and Dutch students could work together researching and writing biographies on Canadian soldiers. In this time, 30 soldiers were honoured for their sacrifice and are now forever in the archives at the Information Centre of the Holten Canadian War Cemetery. With the success of this exchange, Veldhuis was inspired to write a project plan for all schools in his country and created a pilot program with two of his students, Mart and Lars. These young men were given the name of Canadian Private Craig McLean Alles and asked to begin research. Enthusiastically, these students wrote the biography for Private Alles and also had the opportunity to visit his final resting place. When asked for their reactions on the project, Mart states "I would really recommend it because it is pretty fun to do and not too hard. You can also learn something about the life of a soldier".  Lars too found the project to be very fun and stated "[It is] Interesting to learn something about a soldier that served in World War II". As an outcome of the two students work, Mark has also started a biography project titled "Give Every Grave a Story". In this project, with the help of the Holten Canadian War Cemetery Information Centre, 220 students are pairing up to write biographies on fallen soldiers.
This project has been a source of pride and joy for Veldhuis. Over the last few years, he has had the opportunity to contact and meet visiting family members of those who died in action at Tubbergen. One of the most memorable memorials was on April 2015 for the 70th anniversary of the Liberation of Holland, which twelve of Marks students put together. This local memorial was dedicated to those who laid in the war graves at Tubbergen, the Mayor and other local politicians attended. The students started the commemoration of the war graves of the RCAF and RCAF crew buried at Tubbergen. It also included a guided tour through the village with stops and explanations about what happened at those specific locations during World War II. Among those memorable moments, Veldhuis is also spearheading the creation a monument for the thirty five Canadian soldiers who were temporarily buried at the Dutch Village of Almen. In April 2015, Mark presented to the local history accusation with an attendance of ninety people. During this presentation, he told the group about the history of the school exchange, The North Shore Regiment, The Holten Canadian War cemetery and the nine completed biographies of Canadian war dead. The financing has been secured and the monument will be revealed on April 8, 2016.
Some of the challenges Mark and his research group have faced are arranging both the Diaries of the Regiments along with the personal files of the soldiers. Mark has one higher goal for his project, to be "… 100% sure [his information is accurate], before [he] publishes a story online or any other way. [He will} try to find the most primary source of information, for example war diaries, soldier's files and other reports". With the help of the Information Centre at Holten and Canadian friends, Mark has been collecting photos and information on soldiers to be archived at the Information Centre. This will ensure people can gain access to this information whenever needed.
Mark feels the most important part of his project is to "get students interested in the personal stories of the fallen Canadian liberators" and that hopefully "the students are getting respect for the fallen soldiers and see the personal side of the great offers [of those] who gave them their freedom". His end goal for this on-going project is to create as many accurate biographies of fallen World War II soldiers as possible, especially those who are laid to rest at the Holten Canadian War Cemetery. Another goal is to encourage more student participation and interest on World War II and gain respect for the soldiers who gave the highest sacrifice. "Hopefully the students see that it was not always normal to live in freedom" says Veldhuis.
This year, Veldhuis is doing another special project with a total of 8 students. 5 of the students will be making a short documentary about the lives of Canadians that are buried at the Holten Canadian War Cemetery. The students have been in contact with some of the family members and they have all shared their excitement about this project and are planning to help however they can. Three other students are going to write a song about a Lancaster Bomber that crashed at Tubbergen in 1944. The students starting out by researching the Lancaster and its story. The song they are writing is about the lone survivor of this crash and they have been coordinating with the daughter of the surviving airman. Together, these eight students form a group that is named the "Junior Ambassadors of Freedom". Under the direction of Veldhuis, this group of young students take on many roles in the community and school. On October 22, 2015, the students visited each classroom and handed out poppies to teachers and peers to be worn until Remembrance Day. The students are also currently planning an activity for everyone to be involved in on April 5, 2016, the day of the liberation of Tubbergen.
In discussion, Veldhuis has mentioned two main groups that benefit from this project. Those who benefit first are:  the school and his students. His students benefit because their work will be used again and stored at an archive that is open to everyone. They are creating this project for more than just a grade, they are also learning how to research and use primary sources which in turn is helping strengthen their English as a second language. "This project will help those schools involved improve their quality of education because they are doing something more special the normal education program", states Mark.  Another benefactor of this project is the Holten Canadian War Cemetery Information Centre. This has been a great source of publicity for the centre and they are now improving the quality of stories of soldiers in the archives, because of the biographies' they are receiving from the students.
If you are a teacher who would like to join the exchange, join the project "Give Every Grave a Story", or an individual who holds interest in the Canadian effort to Holland in World War II and would like to coordinate with Mark, please email the Canadian Fallen Heroes Foundation at office@canadianfallenheroes.com or call 1.778.456.4451.
For more information on the Holten Canadian War Cemetery and Information centre, please visit http://www.canadesebegraafplaatsholten.nl/ENG/index.html.