Arnold, Henry Mittleberger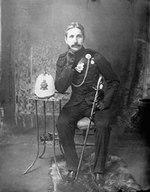 Captain
Army
Winnipeg, Manitoba
St. Catharines, Ontario
Died: Feb 23,1900
Commemorated at
Vendusie Drift (Paardeberg) Cemetery, South Africa
Henry Mittleberger Arnold was born about 1860 at St. Catharines, Ontario. While living in Winnipeg, Manitoba, Arnold joined the Canadian Militia attached to the 90th Winnipeg Battalion of Rifles where he fought in the 1885 North-West Rebellion at Fish Creek and Batoche. Arnold went on to serve with the Canadian Militia attached to 2nd (Special Service) Battalion, Royal Canadian Regiment of Infantry as a Captain during the Anglo-Boer War in South Africa. Landing in Cape Colony by January 1, 1900 as the first Canadian contingent to South Africa, the Royal Canadian Regiment fought in Canada's first overseas battle with the Queensland Mounted Infantry against the Boers. By February 18, 1900, "A" Company had advanced to the Modder River in the Orange Free State near Kimberley. Taking part in the Battle of Paardeberg Drift, Captain Henry Mittleberger Arnold died on February 23, 1900 from a wound received three days earlier. Shot in the head by a Boer sniper while surveying enemy lines, Arnold is commemorated at Vendusiedrift Garden of Remembrance, Perdeberg, Xhariep District Municipality, Free State, South Africa. Son of Charles Morgan and Elizabeth Anne (nee Mittleberger) Arnold of St. Catharines; he was 40 years old. "At the going down of the sun and in the morning, we will remember them."

With Help From
Sheet Metal Workers Union Local No. 511
Memorial: Winnipeg, Manitoba
GOLD SPONSORS
Architecture 49
SILVER SPONSORS
Prairie Studio Glass Ltd
Qualico
Tuff Built Products Inc.



BRONZE SPONSORS
Airborne Coatings
Alliance Engineering Services Inc.
Allquip Industrial Supply Inc.
Allyson Henry
AMJ Campbell Van Lines
Archdiocese of Winnipeg
Building Products & Concrete Supply
Canada's Canine Academy
Cando Rail Services
Coghlan's Ltd.
Commissionaires Manitoba
Cory Frank
Credit Union Central of Manitoba
Cross Church
Eastside Heavy Truck Collision
Federation Tire
Friends Funeral Service
Galarnyk Insurance Agency
Georgian Bay Developments
Gerald Brown
Hillis Insurance Agencies Ltd.
JML Roofing & Renovations
Kachur's Sand & Gravel Ltd
Mid West Packaging Limited
Oblate Sisters Of St Boniface
Paws Unleashed Winnipeg
Peerless Garments Ltd.
Petals West Inc.
Razir Transport Services Ltd.






CO-SPONSORS
Abby's City Wide Garage Doors - South
Advanced Composite Structures Inc.
Advance Pro
Auto Gallery of Winnipeg
Besman Industial
CanMark Industries
D-7 Property Management
Darryl & Sylvia Backman
Energy Systems Services (1993) Ltd.
Findlater, Mrs. J.
Frank Spivak
Frontiers North
Gary Bachman
Mary DeGrow
MDR Investments Ltd.
Minuk Denture Clinic
Mrs. Sharon Entz
Nickolas Hirst c/o Original Pictures Inc.
Northwest Law Enforcement Academy
Northwestern Roofing Ltd
Polar Bear Rubber Ltd.
PPI Solutions Winnipeg Inc.
Querel Trailers
Res-Tech Service Ltd.
Roma Auto Body Ltd.
Ron Davis
Sharon Entz
Susan Dunlop
Suzanne Balcaen
T & T Seeds Ltd.
Trained Eye Home Inspection Ltd.
Union Insurance Brokers Ltd.
Victoria Inn Hotel & Convention Centre
Wood Orle Litigation Lawyers